Posted by Lynda Calimano on Oct 26th 2020

OCTOBER 2020
Enjoy a Little Whimsy!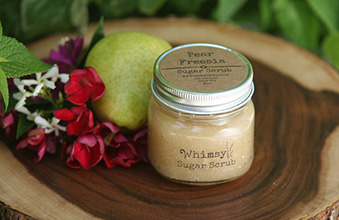 Let's face it, these last few months have been trying times for all of us. We're worried about the health of our families, trying our best with home-schooling, and managing the demands of working from home. What we are NOT doing is carving out just a little slice of time for some self-care. The folks at Whimsy have come to the rescue.
Even the briefest respite from a crazy day can make all the difference. We're happy to introduce you to something that not only feels good + makes us feel better, but is also natural, sustainable and eco-friendly too!
"It all started as a passion project to create the perfect sugar scrub recipe," said Keli Murphy, founder/creator of Whimsy! Her mission was two-fold: to create a scrub that she could use AFTER her body wash that wasn't greasy but offered a silky soft finish instead; and to use simple, natural ingredients with a "what you see is what you get" concept. Whimsy offers a variety of products that deliver both a sensory escape and extraordinary results. We recently tried a few of the sugar scrubs and were impressed with the quality and feel. The scents were refreshing, but not overwhelming…you can really feel the quality of ingredients that were used to create these scrubs.
Here's why you too will love Whimsy sugar scrubs: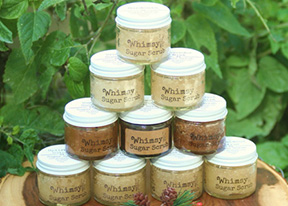 Handcrafted in small batches with you and earth in mind!
Simple, natural, high quality ingredients.
Packaged in a beautiful, recyclable + reusable glass jar.
Scents are balanced and spa-like, not harsh and overpowering.
Leaves skin silky soft.
Made in the USA.
Natural, sustainable, recyclable, cruelty-free, paraben-free, sulfate-free, vegan, organic.
With the holidays fast approaching, the sugar scrubs from Whimsy would make a great gift! The sugar scrubs come in a variety of scents, including: Bliss (floral); Creamy Coconut; For the Feet Peppermint; Gardenia; Lavender Mint; Pear Freesia; Uplifting (citrus); Simply Sugar (unscented); Sandalwood Citrus; Coffee; and Orange Clove—perfect for the fall season. The 8 oz. jars sell online for $28.50; and the 2 oz. jars (perfect for travel and for stocking stuffers) are $7.00. To order and explore the full line of products offered by Whimsy, visit: www.whimsy4u.com.